ShowTime
ShowTime is one of Ideal Music's regular concert to showcase students' performances since 2005. Every coach will hold a concert at least once a year for their students.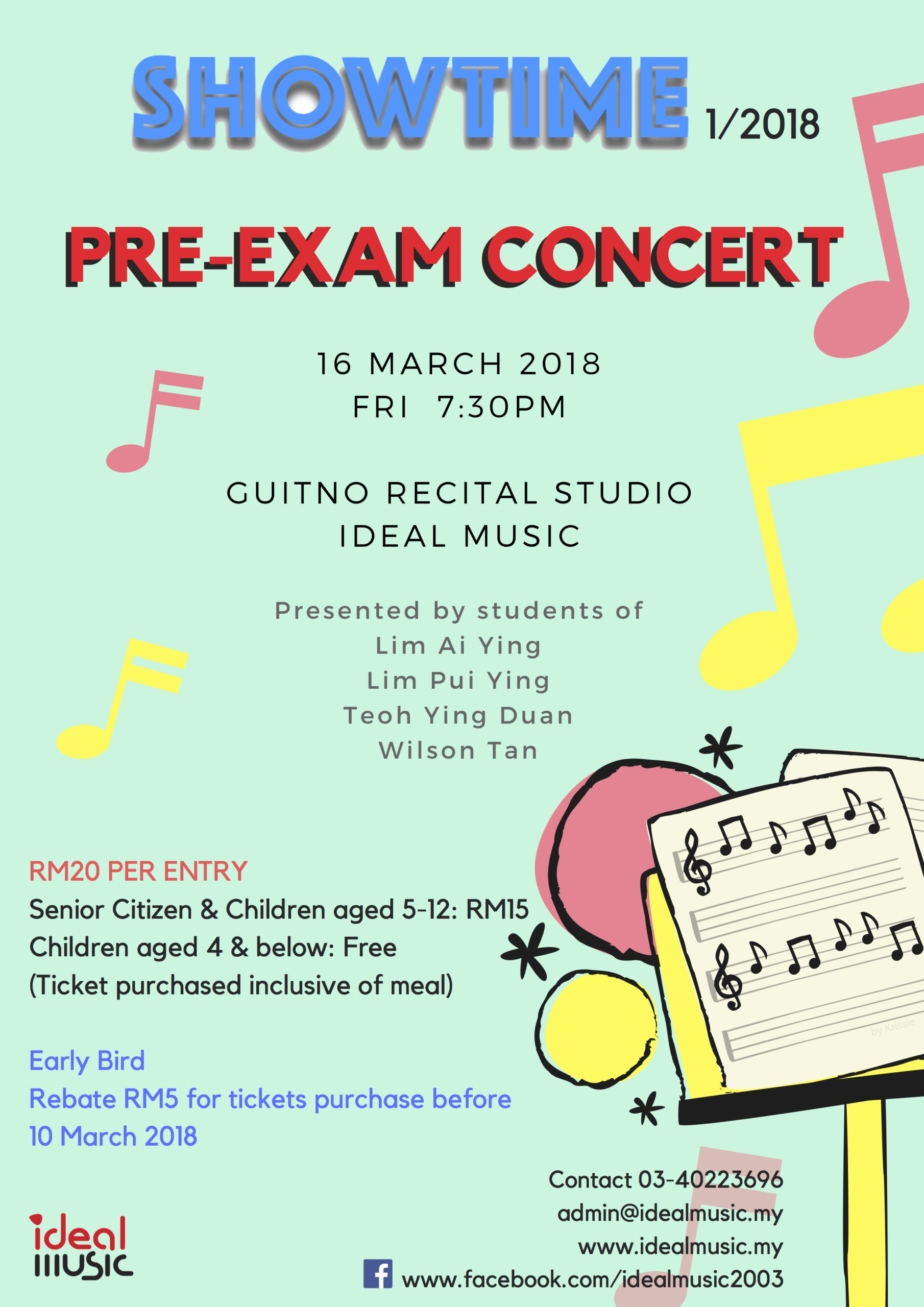 ShowTime 1/2018
Showtime 1 – Pre-Exam Concert
On the evening of 16th March, Ideal Music held the first showtime of the year 2018 for our upcoming exam candidates! These include students of Coach Ai Ying, Coach Pui Ying, Coach Ying Duan & Coach Wilson comprising of awe-inspiring piano, guitar and violin performances. Special thanks to coaches for your guidance, performers for your hard work, and parents for your unconditional support. Congratulations to our Showtime 1's best performance award winner – Goh Zhao Yi!!
ShowTime 2/2018
Showtime 2 – Our Favorite Tune Jamming Session
Showtime 2 themed Our Favorite Tune Jamming Session featuring students of Coach Nicole was held on 25th of May. Both our audiences & performers definitely had a memorable night filled with laughter & fun! Ideal Music sincerely thank all students for your diligence, all coaches for your patience and parents for your trust. Showtime 2's best performance award goes to Hau Shen Ny! Congratulations!!!
ShowTime 3/2018
Showtime 3 – Little Performer's Showcase
The night of 29th June showcased existing and grown up Musikgarten students who were currently or previously taught by Coach Kelly! Beautiful memories were created thanks to performances from our adorable students and their lovely parents. We would like to take this opportunity to specially thank Coach Kelly for your effort, all parents for being the strong pillars of support for our students and students for always giving your 100%. It was definitely a beautiful and extraordinary night to remember!
ShowTime 4/2018
Showtime 4 – Pre-Exam Concert
Showtime 4 featured exam candidates and students of Coach In Nuen, Coach Aunjie and Coach Wei Yin to showcase our amazing students' talent with both solo and duo performances consisting of piano, guitar, violin and vocal. On this night, the best performance award winner is Tan Yan Kyle – congratulations!! Thank you to everyone for making the night a fun & successful one!
ShowTime 5/2018
Showtime 5
On the 29th of September, stunning piano, ukulele, guitar, and even gu-zheng performances were showcased by students of Coach Stanley, Coach Hao Jin & Coach Cindy. Both solo, duo and band performances were performed by these wonderful students. We are extremely grateful that all coaches being our students' inspiration and guide, our students for always pushing beyond your, and parents for being there for them all the time. The best performance award winner for this unforgettable night goes to Chan Qian Tong – congratulations!!
ShowTime 6/2018
Showtime 6 – Fairy Tales & Fantasies
2018 was wrapped with the last showtime for the year – Showtime 6 with the theme Fairy Tales & Fantasies presented by students of Coach Krissie on 16th of November. We have both solo & duo ukulele, piano, guitar, and vocal performances from these incredible students. A big thank you to all students, coaches and parents for having us throughout your music journeys in this year. Let's move towards a better 2019 with Ideal Music! The best performance award was presented to Lim Yung Hang – well done & congratulations!!