Her advices had given me the best motivation to continue in my music journey. – Shak Yuan Zheng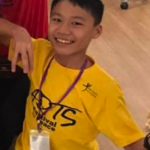 Name: Shak Yuan Zheng
Age: 15
Name of Parent: Lim Bee Chin
Subject: Piano
Grade: 5
Date: 20-Feb, 2019
I started music lessons when I was 4. Muskgarten course was my first music lesson which conducted by teacher Kelly. When I entering primary school, she suggested me to join Ideal Music to continue my piano learning.
At Ideal Music, teacher Nicole is the one who inspired me a lot. She is the best teacher I ever met. She teaches me a lot of techniques and ways of plying the piano. Her advices had given me the best motivation to continue in my music journey.
Further more, everyone in Ideal Music gets chances to perform in various occasions, competitions and ShowTime concerts that organised by Ideal Music.
Lastly, I wanted to thank all the teachers who had guided and taught me, thank you for spending your precious time on me. Thank you.